With 19 years history, KOC is a well-established brand popularly accepted in the world-wide market, especially in European and American countries. We are a professional manufacturer of most passive parts such as patch-cord, connector, adapter, attenuator,splitter, WDM serious. For more detail, please check on our website

kocchina.en.made-in-china.com

.
In case of need, please do not hesitate in contacting us.
MPO Optical Patch-Cord
KOC MPO solution is designed for high-density fber
connections and high-speed data center cabling.
We provide an economic highly reliable solution for
your fber network systems.

APPLICATIONS:
- CATV, and Multimedia
- Gigabit Ethernet
- Industrial and medical
- Active device interface
- Premise installations
- Interconnection for O/E modules
- Data processing networks
- Telecommunication networks
- Optical switch interframe connection
- Asynchronous Transmission Mode (ATM)
FEATURES:
- IEC 61754-7 Compliant
- Compact design, up to 24 fiber ribbon
- Polishing does not require diamond film
- Precision molded MT ferrule
- Telcordia GR-1435-CORE compliant
- Low insertion loss and back reflection loss
- High precision guide pins for exact alignment
SPECIFICATIONS



Single mode

Multimode

Insertion Loss
Low Los ≤ 0.35dB
Low Los ≤ 0.35dB
Standard Loss ≤ 0.7dB
Standard Loss ≤ 0.5dB
Return Loss
≥ 55dB
≥ 30dB
Durability
<0.3dB typical change,
200 matings
-
Operating Temperature
-40 to +85 ºC
-40 to +85 ºC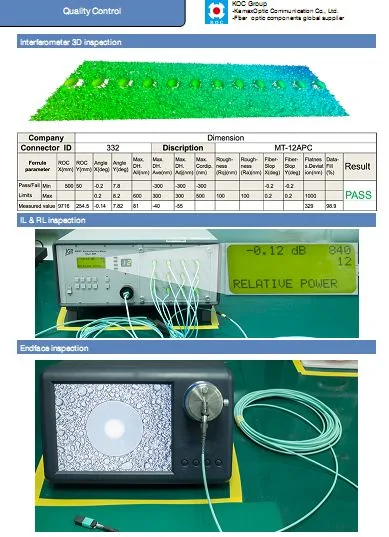 Note: The price range is for MPO(female)-MPO(female) Singlemode 12 core mini round cable 5m.