12 Port Fiber Optic Splice Tray with Pigtail and Adapter for 19'' Rack Wall Mount ODF/ for cross connection cabinet:
Fiber optic splice trays are designed to provide a location to store and to protect the fiber cables and the splices.
Fiber optic splice trays are located at intermediate points along a route where cables are required to be joined or at the termination and patch panel points at the end of fiber cable runs.
Splice trays normally hold up to 12 splices, and several trays are used together to splice a large fiber cable. Each tray provides space for mounting fiber splice protectors and excess fiber. Connectors: SC,ST,FC,LC...can be optional.
Feature:

Grey color and black color optional
Use for single-mode or multimode fiber
Durable injection-molded plastic trays and covers
Center holes for mounting of the tray
12-fiber and 24-fiber splice trays installable in Wall Mount enclosures & splice clusures
| | |
| --- | --- |
| | |
| Connectors optional | SC FC ST LC |
| Diamention | 330*220*25mm |
| | Remain unchanged for72 hours on pressure 70kpa |
| | |
| Atmospheric pressure environment | |
| | |
| | withstand 2000N/10Cm² in 1min |
| | |
Applications and Feature:
Apply To:Use in Gigabit Ethernet and Fiber Channel applications,Ideal solution for data applications requiring high speed data transmission,Broadband systems,Telecommunication/Data communication,Fiber Connections in Patch Panels, Hubs, Switches, Routers.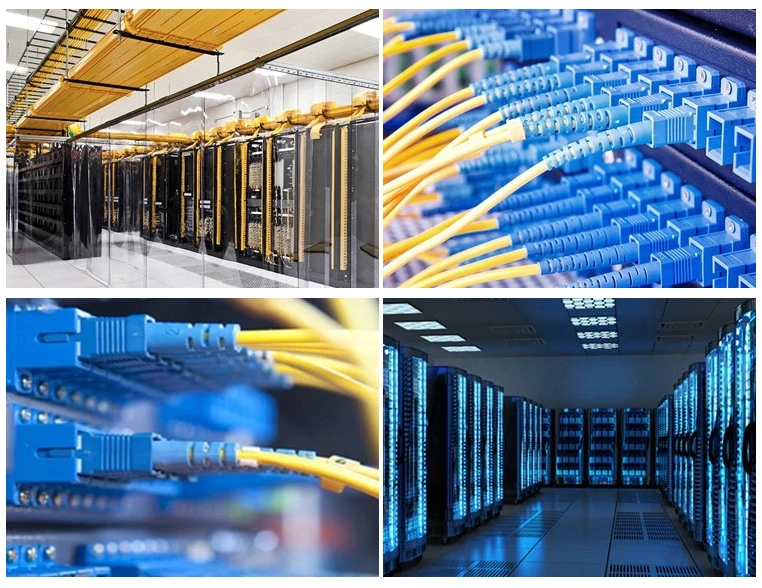 Feature:
1. Low insertion loss, high return loss.
2. Snap-in connectors for easy installation.
3. Small form factor LC connectors-ideal for high density installations.
4. Available fiber cable diameters: Φ0.9, Φ1.8, Φ2.0, Φ2.8, Φ3.0mm.
5. Simplex, duplex or multi-fiber are available.
6. Connector Types: LC, FC, SC, ST, MU, MTRJ, MPO, E2000.
7.
Fiber cores: Simplex, Duplex, 4 fibers, 6 fibers, 8 fibers, 12 fibers, 24fibers, 48fibers etc.
8. Fiber Mode: Singlemode (G.652), Multimode (OM1/OM2/OM3/OM4/OM5).
9. Connectors Materials Flammability Rating: UL94-V0.
10. Cables are fire retardant according to IEC Standard 60332-1.
11. Produced and tested according to GR-326-CORE & TIA-568-C.3 Standards.