Shandong HuaXin Cable Co.,Ltd. has been committed to the photoelectric communication for more than a decade, which is fiber optic cable, coaxial cable, parvicostellae, optical fiber patch cord, passive components professional production processing company. Huaxin has established its own quality management system according to ISO9001:2008 with its products obtaining the network-accessing certificate of SARFT,Tell Certificate,etc. Our products sell well all over the country provinces and cities of radio, film and television, telecommunications, mobile, unicom and other network company, as well as export to Europe, America, Japan and South Korea, southeast Asia and other markets. Welcome all friends to visit, guidance and business cooperation.
Product Description
SC APC-SC UPC High Reliability Standard Optical Fiber Patch Cord
Fiber optic patch cord is available in both Single mode and multimode versions.
Both single-mode and multimode versions fiber optic patch cord come with a zirconia ceramic ferrule with pre-polished PC,UPC,APC profile and convex spherical end.
These end face types allow for faster polishing, and low back reflection and optical loss, while ensuring maximum repeatability
Features:
1.Low insertion loss and back reflection loss
2.Ferrule end surface pre-domed
3.Excellent mechanical endurance
4.Good in repeatability
5.Good in exchange
6.Green Production, CE, RoHS Standard
Application:
1.Telecommunications
2.CATV, LAN, MAN, WAN, Test &Measurement
3.Military industry
4.Medical
arameter
Mode
Single mode
Multimode
Polish
UPC
APC
PC
Insertion Loss
≤0.2dB
≤0.2dB
≤0.3dB
Return Loss
≥55dB
≥65dB
≥35dB
Interchangeability
≤0.2dB
Salt Spray
≤0.1dB
Repeatability
≤0.1dB (1000 times)
Vibration
≤0.2dB (550Hz 1.5mm)
Temperature
≤0.2dB (-40+85 sustain 100 hours)
Humidity
≤0.2dB (+25+65 93 R.H.100 hours)
Apex Offset
0μm ~ 50μm
Radius of Curvature
7mm ~ 25mm
Standards-Compliant
ROHS,IEC and GR-326
Fiber cable performance specifications
Fiber type
Min.Bandwidth
Distance
attenuation
62.5/125
850/1300nm
200/500 MHz/Km
@100Mbps 2km @1Gig 220m
850/1300nm
3.0/1.0dB/km
50/125
850/1300nm
500/500 MHz/Km
@100Mbps 2km @1Gig 500m
850/1300nm
3.0/1.0dB/km
50/125
10Gig Optimized
850/1300nm
2000/500 MHz/Km
@100Gig Varies by VCSEL typical 300m 2850nm
850/1300nm
3.0/1.0dB/km
9/125
1310/1550nm
Approx 100 Terahertz
Up to 100km Varies by transceiver
1310/1550nm
0.4/0.3dB/km
Fiber type
Single mode:
1,9/125-G652D
2,9/125-G655
3,9/125-G657
Multimode:
4,50/125-OM2
5,62.5/125-OM1
6,50/125-OM3
Fiber
Corning,China Fiber,other
Connector1
SC,FC,LC,ST,MU,DIN,MTRJ,E2000,MPO,SMA,D4 and others
Polishing
PC,UPC,APC,MTRJ Male connector,MTRJ female connector
Connector2
SC,FC,LC,ST,MU,DIN,MTRJ,E2000,MPO,SMA,D4 and others
Polishing
PC,UPC,APC,MTRJ Male connector,MTRJ female connector
Cord type
Simplex ,Duplex
Cable diameter
0.9mm ,2.0mm,1.8mm 3.0mm
Cable jacket
PVC,LSZH,OFNR,OFNP
length(M)
0.5m,1m,3M,5m,10m,20m,200m
CERTIFICATE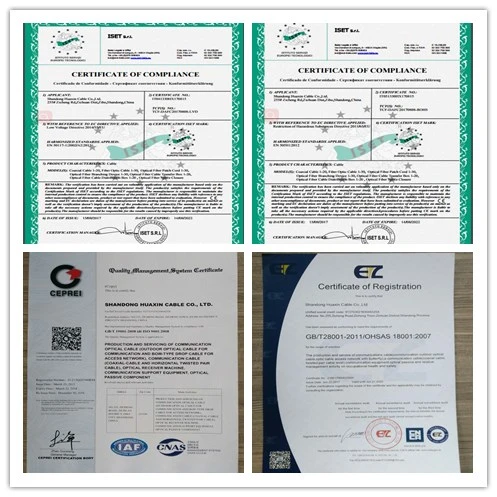 EXHIBITIONS&OUR CUSTOMERS